electricity & plugs in japan
if you plan to travel to japan, you may want to know about japan's electrical outlets and plugs. japanese plugs are nearly identical to north american plugs and usually fit in them just fine. despite this similarity, the voltage in japan is different from most places in the world. the voltage in japan is 100v, while north america is usually 120v and central europe is 230v for comparison. some north american electricity-powered items may work fine in japan, as the voltage is only different by 20v, but with more finnicky items (such as clocks, heating/cooling devices, etc) you will need to get an adapter for them to work or not get damaged in the process.
money & costs
japan uses yen as its currency. some tourists have a hard time reading prices because of the way they are formatted (i.e. 9000 yen), a solution to this is to think of the last two zeroes as cents. for example; 9000 = 90.00
your budget while travelling in japan will vary, make sure to calculate everything! keep in mind you should always have cash on hand rather than relying on your debit/credit card, as some smaller shops do not accept them. most post offices and convenience stores have international ATMs available.
tipping is not very common in japan- if you tip your waiter or waitress, chances are they will chase after you once you leave to give you back your money. high-end places usually just add a 10% service fee to your bill.
more essential info
please check the link above for more essential information on japan!! there is info on exchange rates, visas and customs, weather and when to visit, how to get there, getting around once you're there, health and safety, and other advice for travellers. extremely helpful.
okinawa churaumi aquarium
located within motobu, okinawa's ocean expo park, this beautiful aquarium hosts the largest tank in the world- 'kuroshio sea'. the aquarium houses many different kinds of marine life, including whale sharks and manta rays! it costs 1,850 yen each for an adult, while children under age 6 get in for free. there are also discounts and other kinds of info available on their site.
tokyo national museum
the tokyo national museum holds the world's largest collection of japanese art, such as pottery, sculptures, woodblock prints, kimonos, and much more! they also have art from other countries in asia to spotlight in their various exhibits. admission for adults is 620 yen, while people under 18 or over 70 get in free. they have much more info about current events and exhibits (as well as discounts) on their site.
book off
a very neat second-hand shop for books, manga, video games, music, and movies. akihabara branch in particular is of interest because it primarily focuses its selection on otaku culture. you can buy some manga as cheap as 100 yen here!
kanda myojin shrine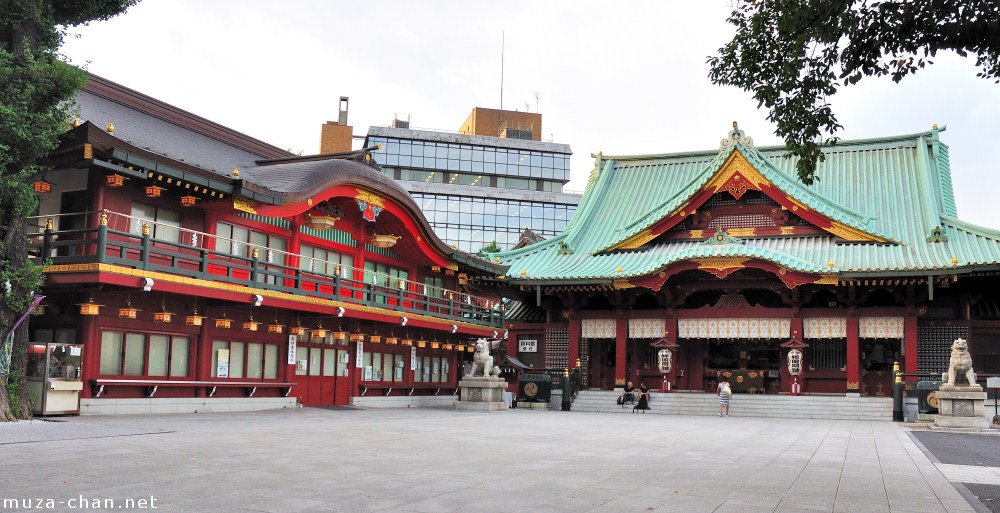 kanda myojin is a historic shinto shrine located in the Kanda area of tokyo, close to akihabara. in the anime "love live!", one of the characters, nozomi tojo, serviced as a shrine maiden at kanda myojin. as a result, back in 2015, the administrators of kanda myojin have adopted nozomi as their mascot for the shrine. many anime fans have left illustrated wish plaques at this shrine, and you can buy various lucky charms here!